Last year at Gamescom, Microsoft unleashed a bombshell of sorts: Rise of the Tomb Raider will be an Xbox One exclusive. However, as many believed that it would be a "pure" console exclusive, the wording constantly hinted at the game inevitably coming to other platforms. Lara Croft originally debuted on the PlayStation One, so it wasn't surprising when the news dropped that Lara Croft's new adventure would hit the PlayStation 4 holiday 2016.
Then, this past E3, Bethesda announced that Fallout 4 will drop November 10th, 2015. The big, open world adventure in Bethesda's critically adored series is set to be hundreds of hours long with seemingly endless customization options. The post-apocalyptic will take a lot of time too, as you can easily spend months exploring all the game has to offer. It has the potential to take up everyone's time for months. Every games media outlet (including The Game Bolt!), big and small, has been gushing over every single piece of Fallout 4-related news that has slowly trickled out. It's reported nearly every day that this will be the definitive RPG experience, and gamers have been waiting a long seven years for the proper sequel. Why would you want to play or talk about anything else?
You know what else comes around November 10th? Star Wars: Battlefront and Rise of the Tomb Raider. While people are always going to pay attention to Star Wars-related media, Lara Croft's adventures are just not as popular or well known in comparison.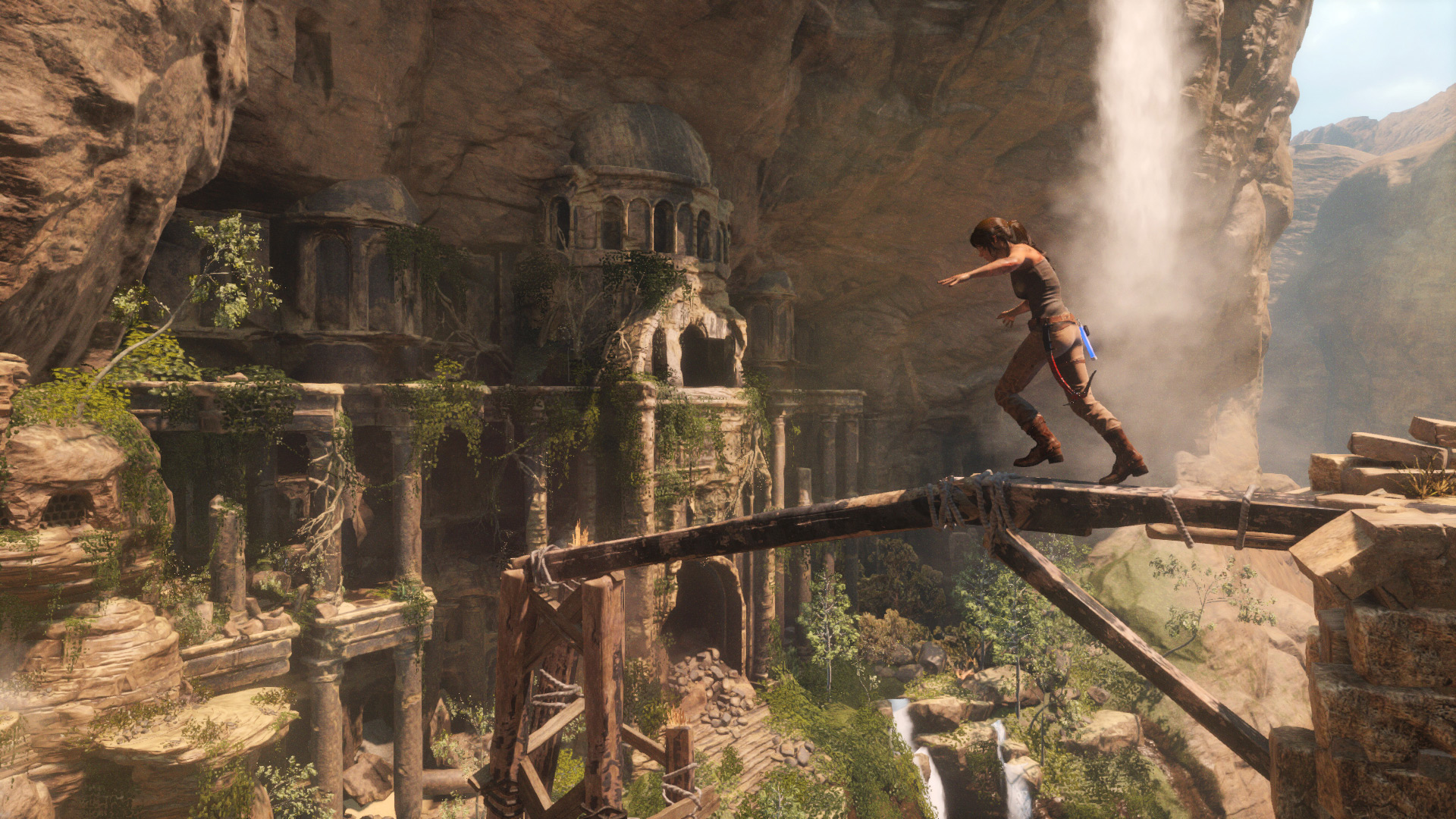 Microsoft is publishing the game, hoping that the console exclusivity will help the Xbox One close the gap with the PlayStation 4. I feel like Rise of the Tomb Raider needed the slight breathing space that comes after Halo 5, Destiny: The Taken King, and Call of Duty: Black Ops 3, where casual gamers can look toward the action adventure as the next major release of the holiday season. But what's stopping Fallout 4 from taking that place? The game is seven years in the making, with an epic reveal this past summer that sets to breathe life into the stagnancy the video game industry has fallen into lately. Rise of the Tomb Raider is a typical sequel, trying to make everything bigger, a little bit different, and smoother than before. Which one is going to grab everyone's attention? Where will all the cool bundles be? While a bundle is more than likely set to accompany Lara Croft on her next outing, why wouldn't you get that cool Fallout 4 bundle? What about that sick Halo 5 bundle? Xbox One can still sell this winter, and it will, but it will probably be due to the release of Bethesda's open world adventure.
When Fallout 3 came out last generation, in 2008, many gamers experienced two different versions of the game. The Xbox and PC owners enjoyed hundreds of hours wandering the post-nuclear war ruins of Washington, DC. PlayStation 3 owners, at the games launch, most likely drudged through a bug ridden journey that was largely due to the PS3's internal proprietary software, which made developing games for the system difficult. While this problem has more or less been solved this current generation, I can't help but wonder if diehard Fallout fans will gravitate toward the Xbox One version of the game, as that was the console which, for lack of a better term, worked.
What about the sales of the actual game? While the Tomb Raider reboot in 2013 made the series relevant again, it was released on March 5th, 2013, going up against MLB 13: The Show, Major League Baseball 2K13, and Naruto Shippuden: Ultimate Ninja Storm 3. All of these games have their own niche audiences and a relatively weak March helped Tomb Raider sell 3 million units. But these 3 million units were across the PC, Xbox 360, and PS3. Along with a definitive edition release on the PS4 and Xbox One, the reboot has sold a respectable 8.1 million units. Will it still sell well on one console for several months? How will it fare against other releases, such as Call of Duty and Halo?
I'm not sure if Fallout 4 will suck all of the coverage away from all of the other big games this fall, as Halo 5: Guardians and Star Wars: Battlefront look to be epic, but it feels safe to say that sales from Rise of the Tomb Raider will be affected. Maybe the game is safer releasing at least in January 2016, alongside its PC version. Time will tell if the post-apocalyptic power of Fallout and the surrounding releases end up taking the excitement out of Rise of the Tomb Raider. My personal sentiment towards the whole situation? Xbox will gain ground, as it looks like 2016 is the year they actually close the gap, but I think the Xbox One will sell because everyone will remember how much fun they had on Fallout 3 with their Xbox 360s, not because of Lara Croft's reboot's sequel.
---
Liam Crossey enjoys Twitter  for its many things to retweet, and is nearly always stressed about the U.S Men's National Soccer Team.